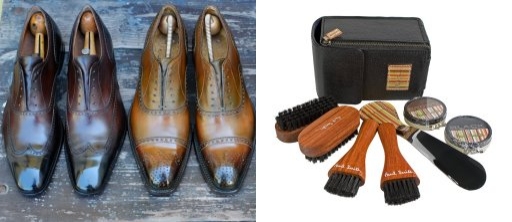 To maintain the life and quality of your shoes, regular cleaning and maintenance is required. You will find a wide range of selected quality shoe care products including polishes, cremes and insoles.
We are a committed to provide you with great shoe care advice, quality products and an excellent customer service. All products have been tried, tested and recommended by us.
For men's shoes we have the common black dark mid & light tan wax polishes whilst for women we have the common colours of renovating shoe cream and suede brushes.
Do you need your walking or work boots waterproofing? Well look no further, as we stock traditional dubbing ideal for rejuvenating and a range of insoles.
So not only can you come to Sunshine Shoecare to put new life into your favourite shoes, now you can keep them that way with our brand new shoe care ranges.
You can find the following:
Cream Polish
Edge Dressing
Horse hair brush
Shoe Horns
Shoe sprays
Shoe Trees
Suede Block and Brush
Wax Polish